Deep Security for the Data Center (System/Enterprise Security)

Proven, efficient security for dynamic hybrid cloud environments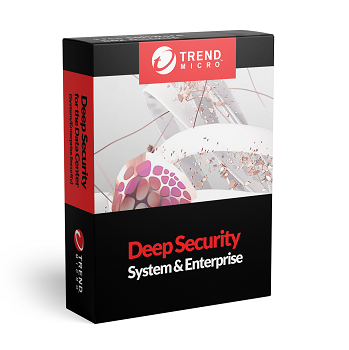 Looking for better pricing or a custom quote? Contact Us!
Trend Micro Products
Deep Security - Enterprise Security - per Server (VM)
Deep Security - Enterprise – per Server (VM) 1-100 VMs
*Price per VM, quantities 1-100
#DXNN1304
Our Price: $700.00
Deep Security - Enterprise – per Server (VM) 101-1,000 VMs
*Price per VM, quantities 101-1,000
#DXNN1305
Our Price: $595.00
Deep Security - Enterprise – per Server (VM) 1,001-10,000 VMs
*Price per VM, quantities 1,001-10,000
#DXNN1306
Our Price: $525.00
Click Here for more pricing
Overview:
Stop attacks and minimize business disruptions
Deep Security delivers timely protection from attacks by leveraging the latest in global threat intelligence from the Trend Micro™ Smart Protection Network™.
Defend against network threats with intrusion prevention (IPS) and host firewall
Apply a virtual patch to vulnerable systems with intrusion prevention (IPS)
Keep malware, including ransomware and its variants, such as WannaCry, off of servers
Detect and stop suspicious or malicious system changes through system security, including application control and integrity monitoring
Simplify hybrid security deployment
Deep Security offers multiple layers of security that protect your servers as they move—across the data center, into the cloud, or in a hybrid deployment.
Deploy multiple security controls with a single point of management and reporting
Rapid discovery and protection of workloads through API-level integration with VMware, AWS, and Azure
Manage workloads based on your application architecture, not based where the servers are deployed
Central reporting across environments for streamlined compliance with GDPR and other key regulations
Apply security that fits your enterprise
In today's data center, you need to think about where your systems live, what's on them, and how to protect them. Simplify security with:
Vulnerability protection for hundreds of applications and operating systems, including end-of-support systems
Support for key enterprise applications, including SAP
Streamlined operations through integration with VMware vRealize and leading SIEMs, including IBM Qradar, HP Arcsight, Splunk and more
Future-proof your data center security investment
Take advantage of our advanced proven support for VMware deployments. And with our integrated approach to cloud security, Deep Security is also ready for your projects in AWS, Azure, and other cloud providers.
Automated deployment, discovery, and management across the hybrid cloud
Reduced risk with automatic application of security policies and controls based on context
Optimized for strategic platforms, including VMware, AWS, and Azure
Key Features:
Optimized for key environments
Server security for physical, virtual, and cloud deployments should perform in a way that fits each environment efficiently and consistently. Trend Micro protects your servers without slowing you down.
Optimized for leading environments: VMware, Microsoft® Azure, and Amazon Web Services (AWS)
Seamless support for the latest data center technologies, including VMware NSX
Increased visibility and speed of response to sophisticated attacks through a Connected Threat Defense
Advanced server security
The next big vulnerability is never far away. Trend Micro™ Deep Security™ can instantly "virtually patch" server, virtual desktop (VDI), and application vulnerabilities, stopping attackers from gaining a foothold in your data center.
Defends against the latest threats, including ransomware and its variants
Removes the need for emergency patching
Protects end-of-life systems
Integrated security accelerates compliance
Trend Micro helps to accelerate compliance by consolidating multiple security controls into one product, while also delivering comprehensive auditing and reporting. And with built-in protection for end-of-support systems, such as Windows Server 2003, you don't have to worry about expensive custom support or migration before you are ready.
PCI DSS
HIPAA & HITECH
NIST 800-53
FEDRAMP
Simplified server security across hybrid environments
Virtualization of servers and desktops is the de facto standard for modern data centers. Simplify security policy and infrastructure management across the hybrid cloud with advanced security controls that are managed through a single dashboard for all environments.
Physical
Virtual servers and desktops (VDI)
Cloud and multi-cloud
Hybrid
Documentation: