Trend Micro Deep Security as a Service - Network Security

Agile Security Built for the Cloud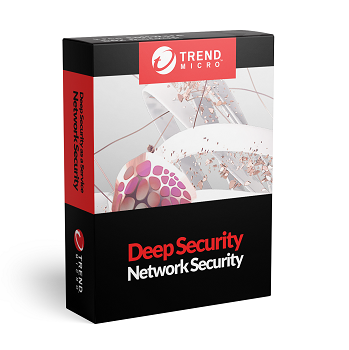 Looking for better pricing or a custom quote? Contact Us!
Trend Micro Products
Deep Security - Network Security - per Server (VM)
Deep Security - Network Security – per Server (VM) 1-100 VMs
*Price per VM, quantities 1-100
#DXNN1272
Our Price: $350.00
Deep Security - Network Security – per Server (VM) 101-1,000 VMs
*Price per VM, quantities 101-1,000
#DXNN1273
Our Price: $297.50
Deep Security - Network Security – per Server (VM) 1,001-10,000 VMs
*Price per VM, quantities 1,001-10,000
#DXNN1274
Our Price: $262.50
Click Here for more pricing
Overview:
One security tool, comprehensive protection
Get centralized visibility into hybrid environments and leverage a full set of security capabilities in a single product:
Protect against network attacks and the latest vulnerabilities with network security (IDS/IPS, Firewall)
Keep malware, including ransomware attacks, such as WannaCry, off of servers with anti-malware and web reputation
Detect and stop unauthorized system changes with application control, integrity monitoring, and log inspection
Increase your visibility and speed of response to sophisticated attacks through a built-in central dashboard
Streamline security for hybrid environments
Designed to work seamlessly across the modern data center and cloud, Deep Security as a Service is optimized for AWS and Azure, so you can bake security into your workloads.
Deploy a single agent with multiple security controls to protect workloads
Auto-scale security alongside workloads in AWS and Azure, eliminating security gaps
Automate security with tools like Chef, Puppet, and Ansible
Accelerate compliance with a PCI DSS Level 1 certified service
Save time and reduce effort
Protect your sensitive enterprise workloads without the need to set up and maintain your own security infrastructure. Deep Security as a Service lets you:
Get up and running instantly — sign up and start securing your servers
Secure servers across the data center and cloud with a single security product
Remove the need to worry about product updates, hosting, or database management
Key Features:
Improved productivity
Reduce the strain on your overburdened IT department by offloading security set up, management, and system updates to Trend Micro.
Start securing servers immediately, without system installation or configuration
Focus on securing workloads, not on managing security infrastructure
Connect instantly to cloud and data center resources for rapid protection
The latest security innovations
With Trend Micro™ Deep Security™ as a Service and our agile development process, you'll have immediate access to the latest security innovations without downtime or testing cycles.
Protect workloads with the latest features and security innovations
All product and kernel updates executed for you
No downtime to implement new upgrades
Pay-per-use pricing
Pay the way you are deploying workloads: per workload, year, or by protection hours. Get access to a full set of security controls, licensed the way you are running your business.
Choose annual subscription or hourly pay-as-you-go pricing
Shift costs from capital to operational expenses
Pay on your AWS or Azure bill with marketplace purchasing
Documentation:
Trend Micro Products
Deep Security - Network Security - per Server (VM)
Deep Security - Network Security – per Server (VM) 1-100 VMs
*Price per VM, quantities 1-100
#DXNN1272
Our Price: $350.00
Deep Security - Network Security – per Server (VM) 101-1,000 VMs
*Price per VM, quantities 101-1,000
#DXNN1273
Our Price: $297.50
Deep Security - Network Security – per Server (VM) 1,001-10,000 VMs
*Price per VM, quantities 1,001-10,000
#DXNN1274
Our Price: $262.50
Deep Security - Network Security - per Server (VM) - Competitive Upgrade
Deep Security - Network Security – per Server (VM) - Competitive Upgrade 1-100 VMs
*Price per VM, quantities 1-100
#DXUN0058
Our Price: $210.00
Deep Security - Network Security – per Server (VM) - Competitive Upgrade 101-1,000 VMs
*Price per VM, quantities 101-1,000
#DXUN0059
Our Price: $178.50
Deep Security - Network Security – per Server (VM) - Competitive Upgrade 1,001-10,000 VMs
*Price per VM, quantities 1,001-10,000
#DXUN0060
Our Price: $157.50
Deep Security - Network Security - per Non-Server System (Kiosk/POS/VDI)
Deep Security - Network Security - per Non-Server System (Kiosk/POS/VDI) 1-500 Kiosk/POS/VDIs
*Price per Kiosk/POS/VDI, quantities 1-500
#DXNN1288
Our Price: $60.00
Deep Security - Network Security - per Non-Server System (Kiosk/POS/VDI) 501-5,000 Kiosk/POS/VDIs
*Price per Kiosk/POS/VDI, quantities 501-5,000
#DXNN1289
Our Price: $51.00
Deep Security - Network Security - per Non-Server System (Kiosk/POS/VDI) - Competitive Upgrade
Deep Security - Network Security - per Non-Server System (Kiosk/POS/VDI) - Competitive Upgrade 1-500 Kiosk/POS/VDIs
*Price per Kiosk/POS/VDI, quantities 1-500
#DXUN0074
Our Price: $36.00
Deep Security - Network Security - per Non-Server System (Kiosk/POS/VDI) - Competitive Upgrade 501-5,000 Kiosk/POS/VDIs
*Price per Kiosk/POS/VDI, quantities 501-5,000
#DXUN0075
Our Price: $30.60