Trend Micro PortalProtect for Microsoft SharePoint

A dedicated layer of protection for confident collaboration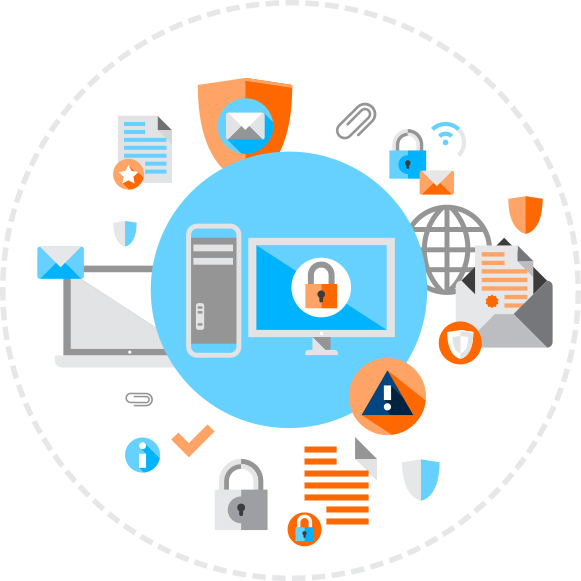 Trend Micro Products
Trend Micro Products
PortalProtect for Microsoft SharePoint
#portalprotect
Get a Quote!
Overview:
Many companies are now using Microsoft SharePoint to connect with employees, partners, and customers for real-time collaboration. Businesses are also using more SharePoint capabilities than ever before—moving beyond simple content repositories to build team sites, create intranet and extranet portals, utilize wikis and blogs, and create social communities.
These dynamic collaboration environments help improve your productivity, but they also increase your security risks, especially when opened to external parties.
Trend Micro PortalProtect secures your collaborations with a dedicated layer of protection that guards against malware, malicious links, and other threats that SharePoint administrators are often unaware of. Its web reputation technology blocks malicious links from entering your web portals, while its powerful content filtering scans both files and web components of SharePoint. PortalProtect goes above and beyond standard antivirus protection by delivering scalable strong web threat protection and data loss prevention.
Software
Protection Point
Threat Protection
Antivirus
Antispyware
Web Threat Protection
Data Loss Prevention
Content Filtering
Features & Benefits:
Key Features
Antivirus & Antispyware
Blocks infected files from entering SharePoint
Protects data from corruption and theft
Stops high-risk files based on "true file type"
Prevents threats from spreading among users
Integrated Data Loss Prevention
Incorporates data loss prevention (DLP) technology with preset policies to prevent data loss and compliance violations
Searches SharePoint databases to discover sensitive data or block threats in real time
Enables granular policies based on Microsoft Active Directory® or SharePoint users, groups, and sites
Identifies graymail messages such as bulk marketing newsletters for optional sorting
Advanced Content Filtering
Prevents posting of inappropriate content to forums, blogs, and social sites
Includes pre-built and customizable dictionaries for profanity and different types of harassment
Web Reputation Technology
Blocks web links to malicious or compromised websites
Provides immediate protection using up-to-the-minute threat intelligence
Cloud and Virtualization Ready
Reduces costs by deploying on Microsoft Azure or Amazon Web Services
Supports Microsoft Azure Agent Extension, PowerShell script, to streamline provisioning of security for SharePoint workloads in the cloud
Low Administration
Reduces costs by deploying on Microsoft Azure or Amazon Web Services
Strong group configuration and management with centralized logging and reporting
Central quarantine management across servers
Role-based access control with single sign-on
Integrates with strategic Microsoft tools, including Digital Dashboard, Web Parts, and DRM
Enterprise Scalability
Used by the largest corporations in the world with hundreds of thousands of users
Optimized with agentless database inspection
206% less latency added than Microsoft Forefront
Smart Protection Server technology uses 10x less memory on the SharePoint web server
Supports SharePoint Shredded Storage and Remote BLOB Storage for both real-time and scheduled scans
Key Benefits
Provides dedicated protection for SharePoint users and data
Stops the wide range of malicious files and URLs
Filters inappropriate content and compliance data in both files and web parts
Takes half the time to manage
Scales to any deployment size
Trend Micro Email and Collaboration Security Solutions
Trend Micro™ InterScan™ Messaging Security Virtual Appliance – Email gateway security deployed as virtual appliance or software
Trend Micro InterScan Messaging Security Suite – Email gateway security deployed as software on Linux or Windows servers
Trend Micro™ ScanMail™ Suite – Mail server security deployed on Microsoft Exchange or IBM Domino
Trend Micro Hosted Email Security – Email gateway security deployed as a service
Trend Micro IM Security for Microsoft Lync – Instant messaging security deployed on Lync servers
Trend Micro PortalProtect for Microsoft SharePoint – Collaboration security deployed on SharePoint servers
Cloud App Security for Office 365™ – Threat and data protection for Microsoft Office 365 email, SharePoint Online, and OneDrive for Business
System Requirements:
PortalProtect supports SharePoint deployments in virtual environments such as VMware ESX or Microsoft Hyper-V, as well as cloud environments such as Amazon Web Services or Windows Azure.
SharePoint Version
Operating System

SharePoint Server 2013 – Enterprise Edition
SharePoint Server 2013 –Standard Edition
SharePoint Foundation 2013

Microsoft Windows Server® 2012
Microsoft Windows Server 2008

Microsoft Windows® SharePoint Services (WSS) 3.0 x32/x64
Windows SharePoint Services(WSS) 4 x64
Microsoft Office SharePoint Server (MOSS) 2007 x32/x64
Microsoft SharePoint Server 2010 x64

Microsoft Windows Server 2008
Microsoft Windows Server 2003