Trend Micro Cloud One – Conformity

Cloud security and compliance posture management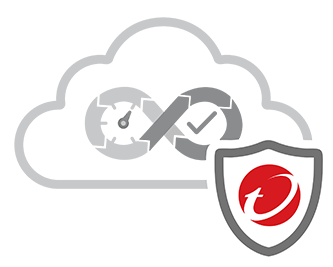 Overview
Organizations are rapidly migrating to cloud computing and adopting innovations to help with new or existing cloud projects. For some, traversing this path has been a multi-year endeavor; others are learning about cloud technologies for the first time and discovering a world of possibility. However, with increased possibilities come new impacts on the business—the infrastructure, technology, security, and team dynamics need to adjust to this evolution.
While cloud computing leads to more automation, cloud engineering and operations teams now require greater visibility of all the moving parts across their infrastructure and platforms. This increase in complexity can result in the rise of cloud-related cybersecurity risk because of misconfigurations across storage, network, and identity. Furthermore, it can leave DevOps and cloud teams with a trail of unmanaged risks across multi-cloud environments in addition to performance, compliance, and operational concerns. This creates the perfect storm to negatively impact the business' reputation and bottom line.
Trend Micro Cloud One – Conformity enables you to fulfill your side of the shared responsibility model with guardrails for your cloud. Providing continuous security, compliance, and governance in a cloud-native platform to help you manage misconfigurations of cloud resources and strengthen your security posture.
With almost 1,000 cloud infrastructure configuration checks out of the box, across Amazon Web Services (AWS), Microsoft Azure, and Google Cloud Platforrm™, your cloud services are scanned in real-time. This provides you with visibility of your entire cloud environment, your compliance score, contextual insights, and alerts for any risks in your cloud infrastructure.
Comprehensive visibility, auto-remediation
Central visibility and real-time monitoring of your cloud infrastructure with a single, multi-cloud dashboard.

Auto-check against nearly 1,000 cloud service configuration best practices across 90+ services from AWS, Microsoft Azure, and Google Cloud Platform.
View your risk status and resolve violations with step-by-step guides or auto-remediation, continuously improving your security and compliance posture.
Automated security and compliance checks
Run continuous scans against hundreds of industry best-practice checks, including SOC2, ISO 27001, NIST, CIS, GDPR, PCI DSS, GDPR, HIPAA, AWS, and Azure Well-Architected Frameworks, and CIS Microsoft Azure Foundations Security Benchmark.
Leverage standardized or custom reports, auditing your infrastructure for misconfigurations with an endless combination of filters.
Enable a DevOps culture
Infrastructure as code (IaC) ensures deployment of the most secure and compliant templates aligned with industry best practices.
Integrate seamlessly into your CI/CD pipeline with powerful APIs. Get real-time alerts of risky configurations changes and take action immediately.
Connect to preferred 3rd-party ticketing or communication providers – Slack, Jira, Zendesk, PagerDuty, Microsoft Teams, and more.
Fast Facts
Extensive depth and breadth of coverage on AWS, Azure, and Google Cloud services.
Nearly 1,000 real-time industry best practice checks. No need to build your own.
Real-time monitoring and alerts.
Extremely actionable and easy to use.
Includes remediation guides and auto-remediation.
Seamless integrations with key ticketing and communication channels like Slack, ServiceNow, Jira, PagerDuty, Microsoft Teams, and more.
CloudFormation and TerraForm template scanner capability scans IaC templates
Key Advantages
Be secure.
Complete visibility of your AWS, Azure, and Google Cloud infrastructure with a single, multi-cloud dashboard. View your risk status and violations with clear remediation steps and immediate resolution.
Be compliant.
Industry standards and compliance requirements are constantly changing. Benefit from continuous scans against compliance and industry standards, including the SOC2, NIST, CIS, PCI DSS, GDPR, HIPAA, and more.
Be assured.
Fully API-enabled automation removes the manual, repeititve tasks that are prone to human error. Embrace DevOps without the fear of misconfiguration introducing security gaps to your cloud infrastructure.