Trend Micro Portable Security 3 Pro

Malware scanning and cleanup tool for air-gapped systems and standalone PCs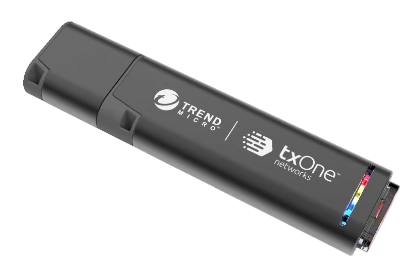 Portable Security 3 Pro
#TMPS3-PRO
Get a Quote!
Overview
Provides effective malware scanning and removal to standalone computers and air-gapped systems. It is a portable tool that plugs into the USB port of any Windows or Linux systems to detect and eliminate malware without installing software. The collected asset information generates an inventory list, improving OT visibility and eliminating shadow OT. Its companion Management Program can deploy scanning configuration settings to multiple scanning tools, either remotely or physically. It also compiles and integrates scan logs and asset information from multiple scanning tools in multiple locations, providing a holistic view of all endpoints.
This advanced edition includes the secure transporter feature, allowing worry-free file transfer between different working environments. All functionalities of Trend Micro Portable Security 3 are included as well as 64GB of secure storage equipped with AES-256 hardware encryption. All files stored in secure storage will be scanned by a built-in anti-malware engine and encrypted on the fly with its AES-256 encryption engine.
No software installation required
By simply loading scanning software from Trend Micro Portable Security™ 3, a tool similar to a USB flash drive, you can easily detect and remove malware – no installation required. Perform on-demand scans whenever and wherever required with no impact on performance.
Easy to use
Use this portable malware scanning tool across multiple industrial control systems (ICS) and endpoint devices, or launch multiple connected scanning tools on multiple endpoints simultaneously. Built-in LED lights show the status of the scan, making the process quick and convenient.
OT asset visibility with centralized management
Portable Security 3 gathers asset data, including computer information, Windows update status, and application lists. Its management program gives you an overview of scans across multiple scanning tools and endpoints and can export data to CSV files.
Scanning Tool
Secures air-gapped systems against threats
Ability to delete or quarantine malicious files
Multiple malware scanning options
Up-to-date malware pattern file updates
Supports on-demand scan and boot scan
Status notifications with LED
Embedded self-security protection
Integrated scan logs
Supports scheduled operations
Friendly graphical user interface
Supports for both Windows and Linux
Collects asset information
Supports case-sensitive file and folder names in Windows
AES-256 encrypted storage for secure file transfer
Management Program
Multiple scanning tool management
Scan settings configuration and deployment
Centralized log view and management
Up-to-date malware pattern file updates
Supports physical or remote management
Advanced administrative settings
Exports asset information to CSV files
Support logs export to SIEM or syslog servers