Trend Micro TippingPoint Security Management System Virtual Appliance

Centralized management with integrated security policy, response, and visibility
TippingPoint Security Management System Virtual Appliance
#vSMS
Get a Quote!
Overview
Trend Micro TippingPoint Security Management System (SMS) provides a scalable, policy-based operational model and enables straightforward management of largescale Trend Micro TippingPoint deployments.
TippingPoint SMS enables:
Big-picture analysis with trending reports
Correlation and real-time graphs on traffic statistics
Filtered attacks
Network hosts and services
Inventory and health status for TippingPoint devices
A significant component of TippingPoint SMS is the dashboard. It provides at-aglance monitoring and launch capabilities into targeted management applications. It also presents an overview of current performance for all TippingPoint devices in the network, including notifications of updates and potential issues that may need attention. Customers can customize the TippingPoint SMS dashboard to their specific needs by using a dashboard palette of drag-and-drop configurable gadgets that are categorized by health and task status, inspection event, event rate, security, reputation, application, and user.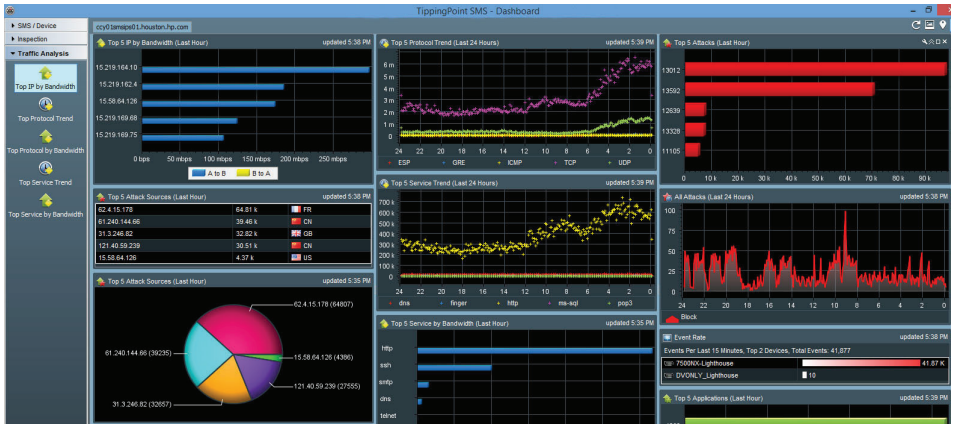 TippingPoint SMS Dashboard
Threat Visibility and Prioritization
SMS Threat Insights is an aggregation portal that takes events from TippingPoint devices, vulnerability scanners, and sandboxing solutions, and displays them in one place to prioritize, automate, and consolidate network threat information.
This allows multiple security groups to have a common framework for discussion and resolution. By correlating and automating threat data from multiple security tools, SMS Threat Insights assist security professionals by prioritizing incident response measures for breaches or potential vulnerabilities. The portal provides views and actionable data on:
Breached hosts
Information is correlated from TippingPoint and Trend Micro Deep Discovery Analyzer (sandbox) to help prioritize events for response. Security professionals can isolate, seek out, and quarantine users on the network who appear to be infected or acting suspiciously.
Attacked vulnerable hosts
Integrated with third-party vulnerability scanners (Rapid7, Tenable, and Qualys) to prioritize Trend Micro DV filters based on actual vulnerabilities in a unique environment. This gives users the ability to quickly enable filters in which they may have been previously unaware.
Suspicious objects
Incident response is integrated between Trend Micro Deep Discovery and TippingPoint via the SMS. By automatically submitting identified potential threats (like URLs) from TippingPoint to the Deep Discovery sandbox, it isolates and investigates the risk, converting unknown, potential threats into known threats. These suspicious objects can then be viewed in SMS Threat Insights to ensure that users are protected.
Trend Micro Zero Day Initiative (ZDI) filter hits
Undisclosed threats are vulnerabilities that are unknown to the public—outside of Trend Micro and the impacted software vendor—that could potentially be zero-day threats. The Trend Micro Forward-Looking Threat Research (FTR) team, in collaboration with ZDI, provides preemptive protection from undisclosed and zero-day threats through exclusive access to vulnerability information. In most cases, this preemptive protection is available before a vulnerability is disclosed or exploited. SMS Threat Insights display filters that trigger on the potentially most impactful threats to give security response teams visibility into the high-priority, undisclosed zero-day filters protecting vulnerabilities in their environment and help prioritize events that may require immediate action.