Trend Micro™ ServerProtect™ for Linux™

Stops Malware from Spreading through Linux Servers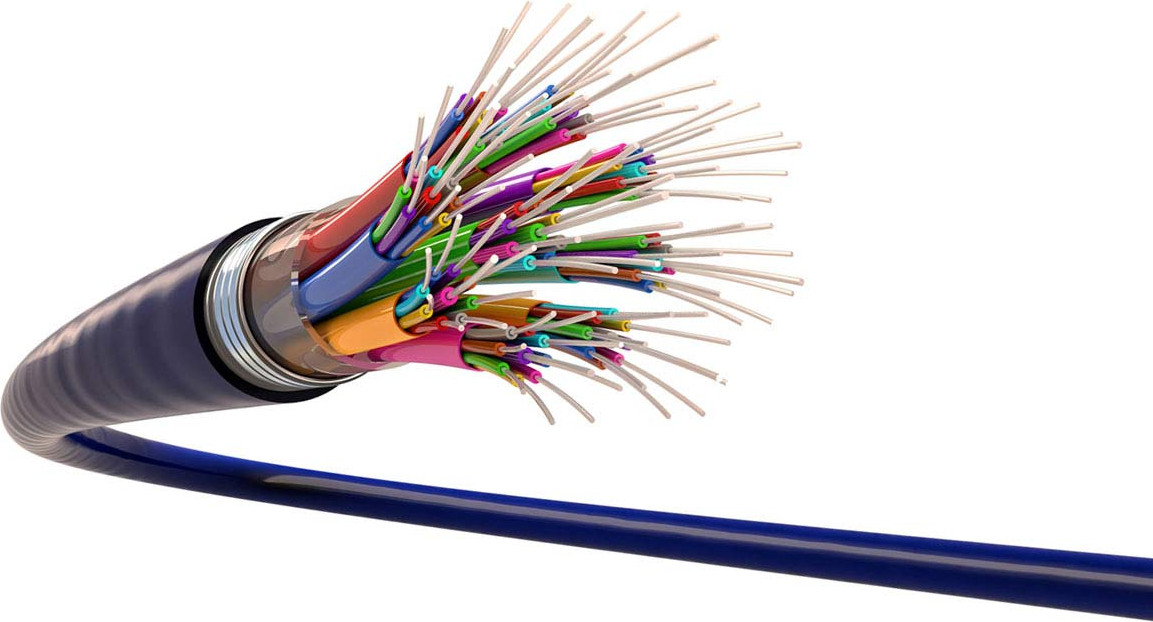 Trend Micro Products
Trend Micro Products
ServerProtect� for Linux�
#serverprotect-linux
Get a Quote!
Overview:
Linux-based servers frequently interact with clients running other operating systems, such as Microsoft™ Windows™. They store and serve files created on and for those platforms. At the same time, the increasing popularity of the Linux platform has resulted in the growth of viruses and other malware specifically targeting Linux servers. With Linux now representing 15-20% of the worldwide server market and growing, these attacks are becoming more frequent and more severe. Thus, securing Linux-based servers from hosting infected files is imperative for any enterprise.
Trend Micro ServerProtect for Linux 3.0 offers comprehensive real-time protection for enterprise web-servers and file-servers, preventing them from spreading viruses, spyware, and other Web threats to internal or external endpoints. Managed through an intuitive portable Web-based console, ServerProtect provides centralized virus/malware scanning, pattern updates, event reporting, and configuration. The solution's stability and reliability is evidenced by certifications from all major Linux vendors as well as independent third parties such as Virus Bulletin. ServerProtect for Linux is a key component in the comprehensive threat prevention offered by Trend Micro™ Enterprise Protection Strategy.
Software
Protection Points
Linux file servers
Virtualized endpoints
Linux Web and application servers
Threat Protection
Features & Benefits:
Key Features
Powerful Antivirus and Spyware Protection
Scans, detects and removes viruses in real time
Now with enhanced spyware detection and removal capability
Scan engine certified by Virus Bulletin (VB) for reliable scanning
Higher Performance and Flexibility
Real-time, on-demand, and scheduled scanning uses latest multi-threaded scanning engine for highest performance while kernel-level scanning minimizes performance degradation
Adjustable CPU utilization during scan process allows users to balance performance impact and scanning time
Kernel Hook Module (KHM) is now open to General Public License to allow customers to recompile to fit to their own customized kernel variants
Antivirus Policy Compliance
Enables antivirus policy enforcement and accelerates update deployment through automatic updates of virus patterns and scan engines
Allows administrators to stay apprised of virus or program events through email notifications and SNMP traps
Centralized Management and Reporting
Seamless integration with Trend Micro Control Manager™, centralized threat management console
Enables central management of attack information, policy deployment, pattern file and scan engine deployment, and reports on policy implementation
Reduces maintenance efforts through automatic component updates
Key Benefits
Key component of comprehensive threat protection across heterogeneous networks
Delivers high performance with kernel level, multi-threaded scanning
Ensures compliance with corporate antivirus policies
Simplifies administration through central management and reporting
Installs easily on the widest range of Linux platforms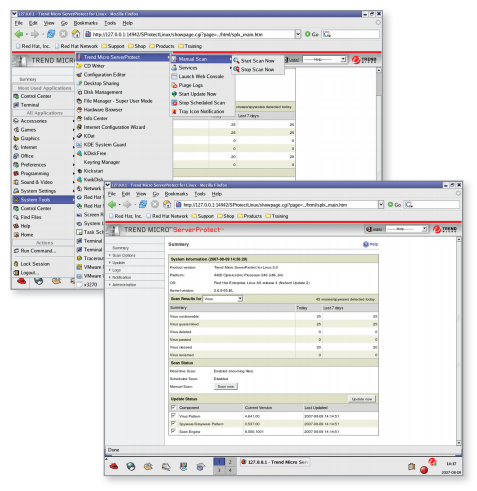 System Requirements:
Minimum System Requirements
System requirements change periodically.
For the latest updates please visit the ServerProtect for Linux product page at www.trendmicro.com.
Linux™ Server/Client
Intel™ Pentium™ II 266 MHz or higher processor
AMD™ Athlon™ processor or higher
256MB RAM or more (512MB recommended for application/file servers)
75MB disk space for /opt directory and 50MB disk space for /tmp directory
Red Hat™ Enterprise Linux 4 (AS, ES, WS, Desktop)
Red Hat™ Enterprise Linux 5 (Server or Desktop)
Novell SUSE™ Linux Enterprise 10 (Server or Desktop)
Web-based Management Console
Microsoft™ Internet Explorer 5.5 with Service Pack 2 or higher
Mozilla™ 1.7 or higher
Mozilla Firefox™ 1.0 or higher
X Window for Quick Access Console
KDE 3.3 or higher
Trend Micro Control Manager™
Trend Micro Control Manager version 3.5 with Patch 3 or higher
Documentation: