Trend Micro IM Security for Microsoft Skype for Business

Instant Protection for Instant Communications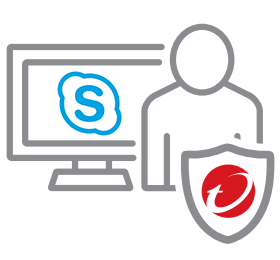 IM Security for Microsoft Skype for Business
#im-security
Get a Quote!
Instant-messaging protection from malware, web threats, content violations and data loss
Overview
A growing number of companies are using Skype for Business to connect employees, partners, and customers in real time. While live communication improves productivity, it also presents a new opportunity for cybercriminals to work more quickly, spreading malware, luring victims to malicious sites, and stealing data in a flash. The risk is compounded when communications are federated with partners and customers whose security is outside your control.
Trend Micro IM Security provides threat and data protection for Microsoft Skype for Business servers. Top-rated malware and URL filtering block phishing messages and malicious file transfers. Built-in Data Loss Prevention (DLP) controls the sharing of sensitive data. Minimize your risk exposure with messaging content filters that warn users of unprofessional behavior. This real-time security solution also helps you avoid conflicts of interest with communication controls to enforce blocks or ethical walls. Its managed centrally with single-sign on and role-based access to minimize administration time.
Software
Protection Points
Threat Protection
Malware
Web threats
Zero-day threats
Phishing
Data loss
Inappropriate content
Conflict of interest
Key Benefits
Blocks dangerous messages before they reach users
Filters malware from file transfers
Simplifies compliance with DLP
Keeps instant communications professional with content filtering
Avoids conflicts of interest and protects privacy by creating ethical walls
Lowers administration time and cost
---