Trend Micro Threat Protection System – TPS

Comprehensive network security for your physical and virtual environments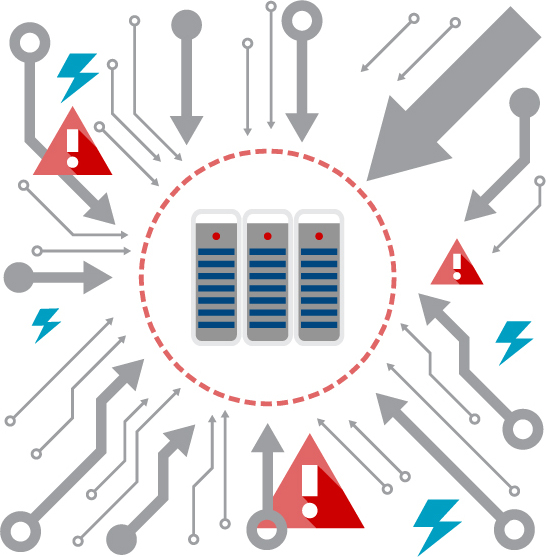 Trend Micro Products
Trend Micro Products
Threat Protection System � TPS
#tps
Get a Quote!
Overview:
Stop known, undisclosed, and unknown threats
Using a combination of technologies such as deep packet inspection and threat reputation, the TPS provides organizations with a proactive approach to security. Our technology discovers and actively blocks attempts from known, undisclosed, and unknown vulnerabilities.
Industry-leading threat intelligence
Flexible physical and virtual deployment options coupled with automatic recommended settings provide immediate and on-going threat protection with little manual effort. Relying on vulnerability-based filters with threat intelligence from the Zero Day Initiative and DVLabs, the TPS provides an effective barrier to all attempts to exploit known, undisclosed, and unknown vulnerabilities. Vulnerabilities are neutralized often months and weeks in advance of a patch.
Machine learning defense techniques
Digital Vaccine filters maximize protection with machine learning to create mathematical models to predict whether network traffic is malicious or benign. These models are evaluated against network traffic and the TPS makes real-time decisions to immediately and accurately block malicious traffic that emulates known or unknown malware family characteristics with minimal impact on network performance.
In-line threat protection
Powered by real-time, in-line threat intelligence, our technology protects critical data, applications, and infrastructure without affecting network performance. This complete contextual awareness, combined with the threat intelligence from Digital Vaccine Labs (DVLabs) provides the visibility and agility necessary to keep pace with today's dynamic, evolving enterprise networks.
Key Features:
Integrated advanced threat prevention
The TippingPoint® Threat Protection System (TPS) integrates with the TippingPoint Advanced Threat Protection product family, rated as "Recommended" in the NSS Labs Breach Detection System report three years in a row. Together they detect and block targeted attacks and advanced threats through pre-emptive threat prevention, threat insight and prioritization, and real-time enforcement and remediation.
On-box SSL inspection
TippingPoint TPS eliminates SSL blind spots by inspecting encrypted SSL traffic on the same box without compromising network performance, using the same management and graphical interface. Administration is simple and minimizes IT configuration and management demands. Policy-based control provides the ability to determine which SSL encrypted flows should be decrypted for inspection purposes.
Agility and flexibility
TippingPoint TPS gives you the flexibility necessary to keep pace with today's dynamic, evolving enterprise networks, and is designed to follow your network wherever it moves, whether it's physical or virtual.
Operational simplicity
TippingPoint TPS enables faster time-to-security through a simple management interface that is easy-to-use and manage. It provides a unified policy and element management across the entire TippingPoint deployment.
Documentation: